Liverpool started off on a great note when they scored four goals against Arsenal within 18 minutes.
They defeated the Gunners 4-3, even though the score-line doesn't reflect the true happenings in the game. They conceded two cheap avoidable goals but endeared fans with their sterling attack. However, new signing Georginio Wijnaldum didn't impress fans as much.
German outfit Hertha Berlin has confirmed the signing of Dutch international Roy Beerens. The winger was formerly with Reading Football Club but agreed to the three year deal after agreeing personal terms with the club.
The 28-year old signed the deal but the fee was not disclosed. The Royals claim they got the services of the player ahead of others despite the competition for the signature of the player.
Manager of the club Jaap Stam spoke highly of the player. He said: "Roy has a lot of qualities. He is a winger that can play on either the left or the right, and technically he is very strong. He has pace, he can score goals and create chances for others. I think he is going to be a player the fans will enjoy watching."
Ryan Babel was back to Liverpool but this time not as a player but as a visitor.
The former Liverpool winger said that he still likes the club as well as the city. He visited the city and made a video documenting his visit that he posted online.
It has been five years that the winger has left Liverpool but he clearly still loves the city and to hang around with his friends. He was filmed visiting some popular sites in Liverpool, and he stated that the city has some nice bars, clubs, and restaurants.
Ryan Babel has come to Steven Gerrard's rescue. The Liverpool captain has been accused by El-Hadji Diouf of hating black people.
Steven Gerrard stated in his autobiography that El-Hadji Diouf was the signing he liked least at Anfield and El-Hadji Diouf had seized the opportunity to criticize the former Liverpool captain.
El-Hadji Diouf told the press that Steven Gerrard also did not like Mario Balotelli, and this is why he was treated as such at Anfield. He said that he told the Italian striker that Liverpool is a racist club and that they do not welcome black players.
Liverpool cult hero Ryan Babel could be set for a move to the MLS during the summer transfer window.
The Dutchman recently filmed his trip to the Merseyside, speaking of his affection for the city. He stopped by some familiar sites in South Liverpool and the city centre. He also made a quick stop by the house of former rival Steven Pienaar.
Babel left Anfield five years ago in an over five million Pounds move to TSG Hoffenheim. The player who seems retirement bound is rumoured to be interested in a move to Salt Lake City in the MLS, after leaving former club Al-Ain FC in the United Arab Emirates earlier this year.
Former Liverpool forward Ryan Babel was a very promising kid when he plied his trade in Ajax before moving to England to play under Rafa Benitez in Liverpool.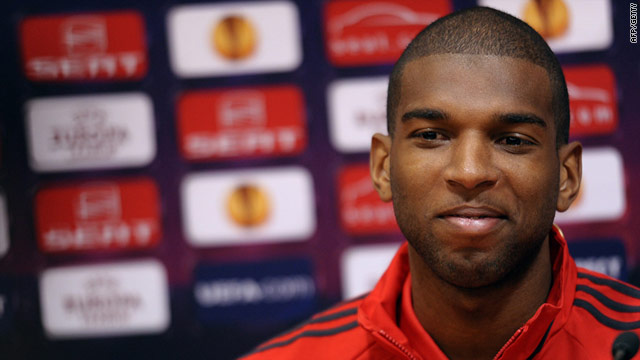 The then 21-year old Dutch raw talent agreed to move for a transfer fee in the region to 11.5 million Pounds.
Ryan Babel used to be a hugely promising player when he signed for Liverpool at the age of 17 for a fee of £11.5 million.
The Dutch footballer was even compared to have similar abilities to Thierry Henry as Marco van Basten said that Babel has the talent and skills to become the next Thierry Henry but he failed to live up to the hype and expectations from everyone.
Throughout the entire playing career of Ryan Babel, he has gone through a number of clubs including: Ajax, Liverpool, Hoffenheim, Kasimpasa and his current team is Al Ain.
Ryan Babel has not made a single appearance for his current club Al Ain since December of 2015 but he still an ongoing contract with the club which extends until 2017.
The time that Babel has spent performing with Al Ain has been a forgettable one as the Dutch player has had to deal with problems involving disciplinary issues and has even faced problems in relation to things that he has done in the world of social media.
Despite only 29, Ryan Babel is not playing anymore football despite having not retired yet. Indeed, the winger is in conflict with his current club Al Ain because of wrong behavior.
e is accused of using social media in a sexist way when he replied to a woman on Twitter.
The fan asked Babel about his issues with Rafael Benitez, and the former replied that girls should not be talking about football. This has sparked plenty of reactions across Twitter where other people have questioned Babel's attitude towards women.
It is a well-known fact that Ryan Babel does not really like Rafael Benitez. This animosity started way back during the time when Benitez was managing Babel at Liverpool. Babel blamed his poor career on the way the former Liverpool played him.
The MLS is renowned for being a league for retired players to enjoy themselves while demonstrating their playing skills.
The latest player that could be making the move to MLS is Ryan Babel. In fact, Babel is not the type of player that traditionally makes it to the MLS. He is still only 29 years old, but he has so far struggled to get his career going after leaving Liverpool.
The player has recently tweeted Salt Lake City without giving any additional information. This has sparked a lot of rumors about the player moving to the MLS.